We're Good To Go
Please note that our 2021 Safe Stays policy will be in accordance with government and hospitality guidelines once issued.
We're delighted to announce that The Grange was awarded Good To Go accreditation in 2020. This new industry standard mark by Visit England offers reassurance that all necessary steps have been taken to meet government guidelines, ensuring you have a safe and enjoyable stay at The Grange.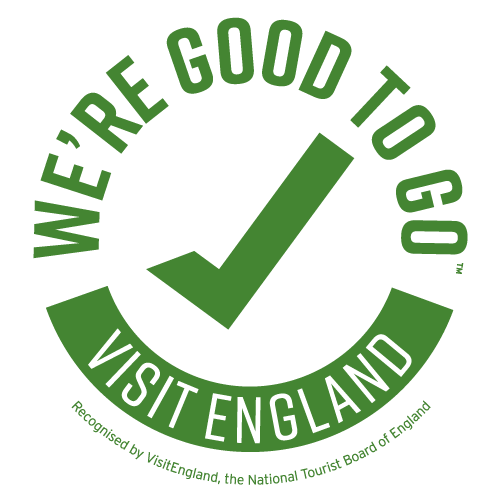 Safe Stays at The Grange by the Sea
We've made changes at The Grange in order to keep you safe. Our 2021 policy will be updated once government guidelines have been released. In the meantime, get in touch if you have any questions or concerns.
Before Arrival
If you experience any symptoms of Covid19 in the 14 days before your arrival please call us to rearrange your stay on 01983 867644
If you are travelling on one of the car ferries you will need to get out of your car and sit in the passenger decks. Please remember to bring a mask for these journeys as well as any other public transport
We will email you prior to your arrival to reconfirm our terms and conditions and to remind you of our increased hygiene policies
On Arrival
Check-in is from 4pm. If you arrive before please keep your luggage with you. At this time we are unable to provide luggage storage
You will be welcomed by a member of staff. To protect both guests and staff there will be a perspex screen at reception
Keys will be sanitised and ready for you in your door
If there are other guests in reception please use the two-metre stickers outside to queue
Hand sanitiser will be provided in reception and central areas. Please use hand sanitiser on arrival and throughout your stay
Please wear your mask when moving through the house in communal areas including corridors
Your Room
Rooms will be deep-cleaned between each guest with particular attention paid to high-touch areas
Rooms will not be serviced daily at this time. However, please do ask for anything you need
Towels can be replaced by leaving used towels in the bag provided outside your room. Fresh ones will be provided
Meals
Meals may be taken outdoors where possible. If the weather does not allow for this then we will offer a choice of dining times to limit numbers in the dining room and ensure social distancing
Please wear your mask when walking through the house until you are seated
Table service will be provided by our waiting staff. They will be wearing a face covering
Masterclasses
Masterclasses will take place outdoors where possible
If indoors, yoga class times may be shorter than advertised to allow two consecutive classes
Guests are encouraged to bring their own yoga mats or to keep the same mat throughout their stay
Windows and doors in communal areas will be open at intervals to increase airflow
Course numbers are limited to ensure social distancing, whether indoors or outdoors
Behind The Scenes
All staff will continue to be trained on the most up-to-date hygiene practices to prevent the spread of Covid19
Our staff practice good personal hygiene including washing their hands frequently and wearing appropriate PPE
Hand sanitising stations are provided throughout The Grange and restocked on a regular basis
Staff will be sent home if they develop symptoms
We realise that The Grange is a home-from-home for many and these new procedures may feel a bit strange. We appreciate your understanding and adherence to the measures in place. Guests who do not adhere to the new measures will be refused service.